4 reasons to use online ordering
Why you should be using an online ordering system
An effective online ordering system has the potential to revolutionise the way you run your cut-to-size manufacturing business. This system will process the receiving, tracking, and fulfilling of an order. Managing the life cycle of an order requires time and resources. In this article we'll look at the main reasons why your cut-to-size manufacturing business will benefit from utilising an online ordering system.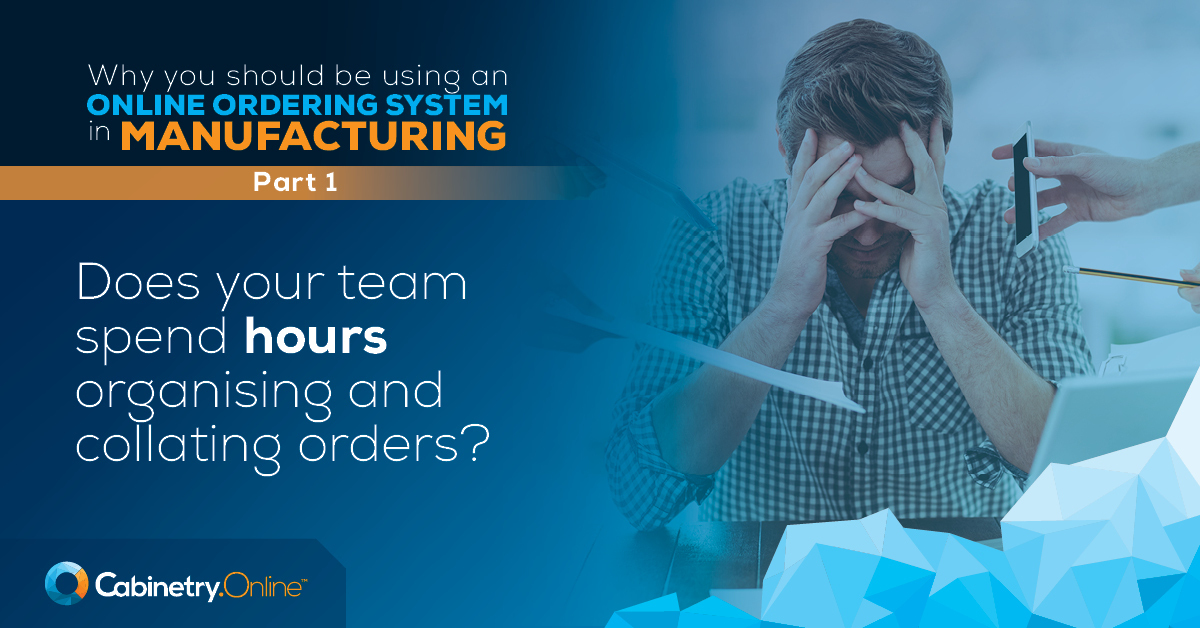 1. Does your team spend hours organising and collating orders?

Do your orders come in via phone or email? Do they need to be entered into a system to quote, only to email it back to the client for approval? An online ordering system removes that hassle for you and more importantly, for your customers. It means your customer can place their orders online from your selection of products, which feeds straight through to your manufacturing system. This makes the process easier and more efficient with less chance of errors, so you and your staff can spend more time on things that matter.
As Ben Fatchen from Cabinet Systems puts it, "The business is no longer bogged down or held back by what used to be the tedious and time consuming process of creating quotes manually."
Along with streamlining the quoting and ordering process, an online ordering portal also provides a central hub for all your orders. You'll have a real-time overview of how many orders are in the pipeline, which have been dispatched and how many have been delivered already. This helps you better manage production planning.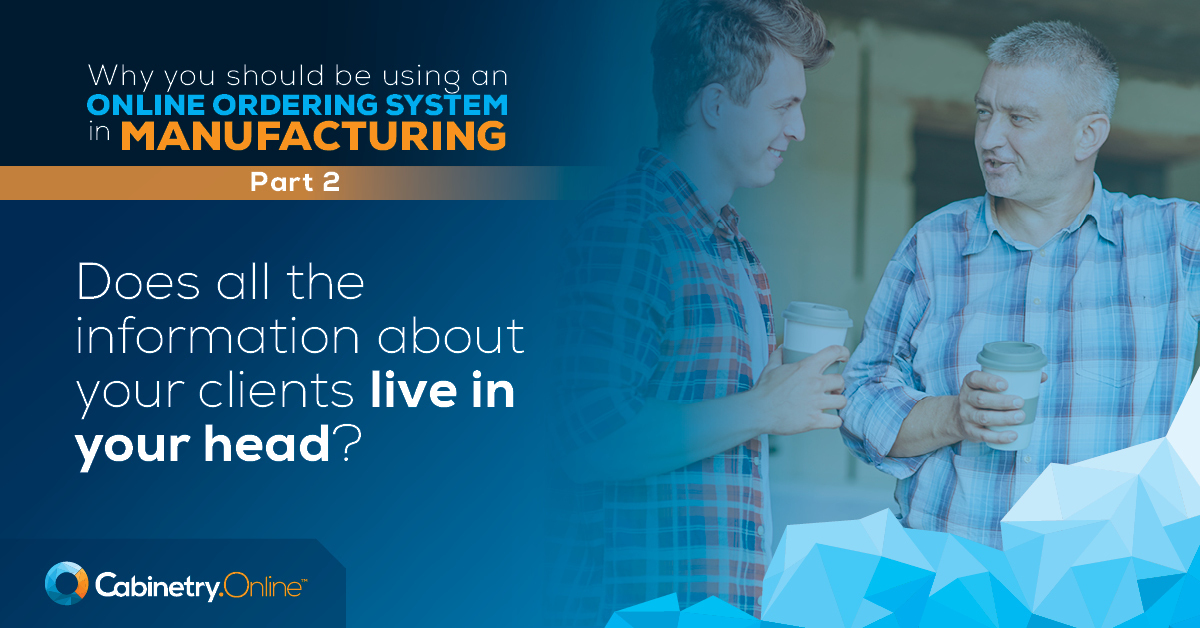 2. Does all the information about your clients live in your head?
Does your team need to come to you to get information about clients? Don't have time to write it all down? An online ordering system begins and ends with the customer. The customer begins the process by requesting an online quote and the end of the process is the completion of the order.
The ordering system can also function as a customer relationship management tool. The customer details are stored on the platform along with their quote and order history. All sales can be managed in one place. The online system will also store the customer's favourite (most commonly ordered) items and default settings, to make it easier for them to re-order.
"Customers are always changing what they want and the configuration they want, the system keeps record of all the quotes." observes Ben Fatchen from Cabinet Systems.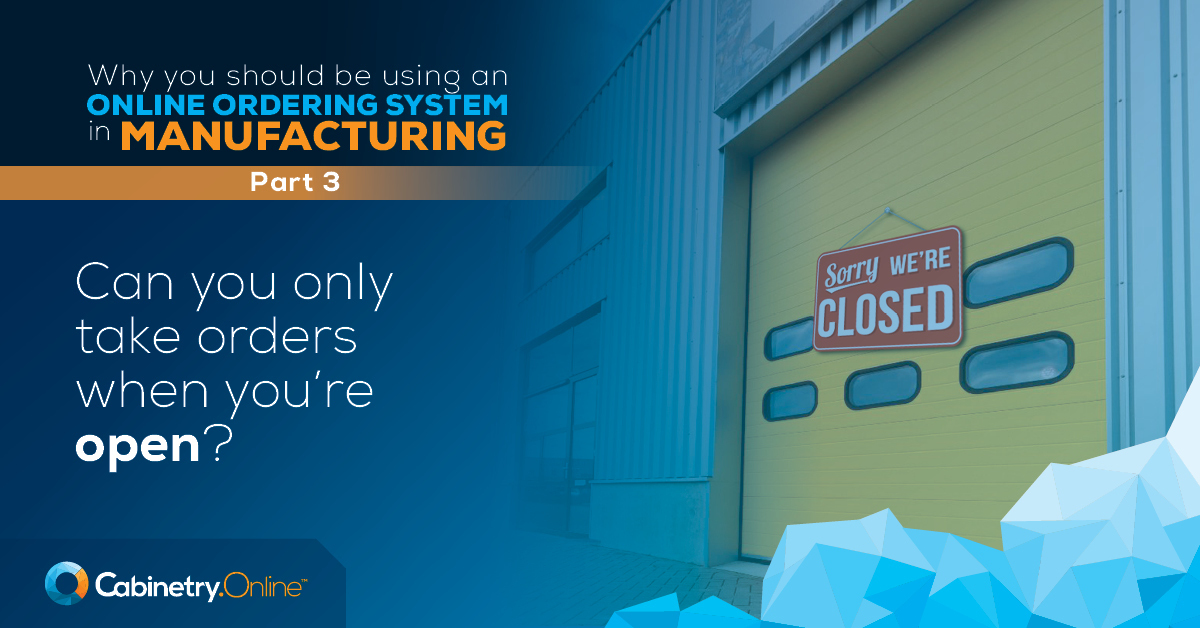 3. Can you only take orders when you're open?
Can you only take and process orders when your team is available? With an online ordering platform you can be in front of your customers at all times. Being accessible 24/7 is an invaluable marketing tool. You can also personalise your online ordering portal by adding your branding and other customisations.
"Our clients quite often say how easy it is to use." reports Kevin Jacobs from Tassie Cabinets.
Using an online ordering platform will allow you to take advantage of the portal developers' knowledge and expertise. Setting up your own portal or app would be a costly and time consuming process. Let the experts in this area do what they do best while you focus on building your business.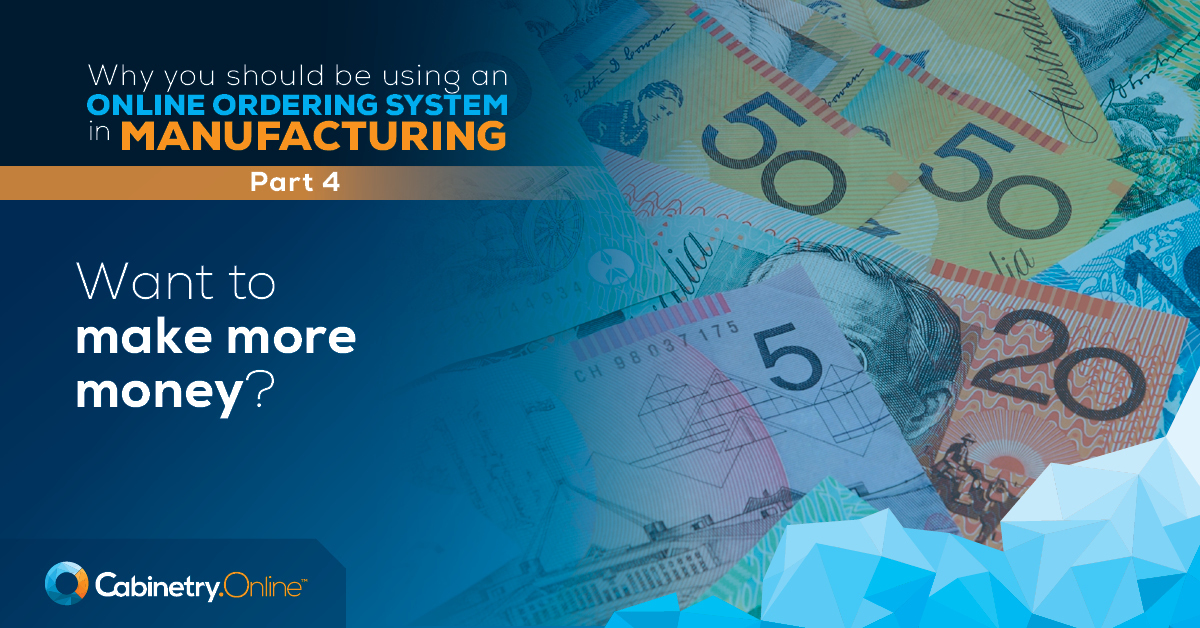 4. Want to make more money?
Everyone wants to see the bottom line of their business grow, after all, that's why you're in business. Automation is the key to streamlining business processes. By automating your ordering system, you can reduce error frequency and ensure that your business develops a reputation for efficiency and reliability.
Andrew McAnuff from Cut to Size by YVCM says "We can now offer our customers a reliable and consistent way to both quote and order their jobs through us."
An efficient order management system is crucial to ensure that customer expectations are met. It will save money on manual labor, decrease the risk of human errors, and free up time so you can focus on your business.
Tristan Smith from Smithwards explains, "It [an online ordering system] improves efficiency, productivity and even minimises financial losses through errors in plans and third party mistakes."
You might also enjoy reading these…