How Cabinetry.
Online

Works
How Cabinetry.Online works
It only takes a few easy steps to get started
Select your Cabinetry.Online package. Choose the package that best suits your business needs. There are 4 options to choose beginning with a basic "Portal only" option to "The works" which includes numerous Cabinetry.Online features, marketing assistance and CNC software features.
Customise your portal with your logo and colours. Your Cabinetry.Online portal flows seamlessly from your website and by using your branding and colours has the same look and feel. Now you set pricing, material options, delivery options, assembly options, hardware available, sundries store and more.
Your customers will be able to create their own quotes in real time, and before they submit an order, they will need to approve an order sheet. You will receive notification of submitted jobs and you decide to approve them or not.
In your admin dashboard you will have an overview of all your jobs, which will assist you with production planning. If you decide to approve jobs you can download the job sheets and send to production for manufacturing.
The Cabinetry.Online software generates CNC code from your Cabinetry.Online job file. *
Then depending on your selected package, you can use label printing, CAD editing, TrueShape nesting, door profile machining features and more.
Once you have cut you order on your CNC machine, you can either wrap or stack it, assemble the cabinetry or leave as flat-pack in preparation for delivery or pick up.
*Available with the Portal + Core CNC setup, Portal + Advanced CNC and Portal + the Works packages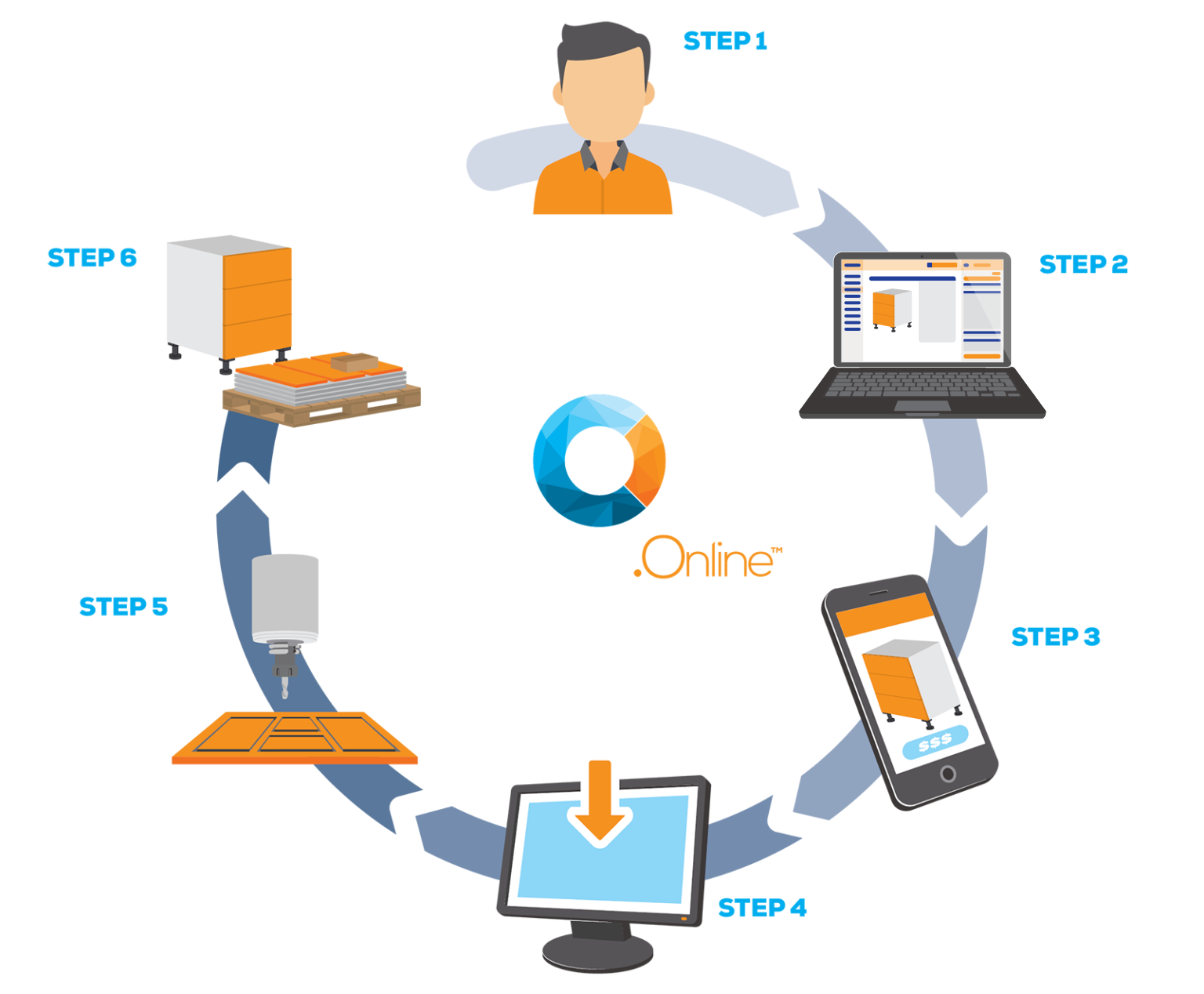 No more spending hours creating quotes only have have your clients request changes to them. Your clients generate real-time quotes whenever they need it.
Your clients create their own quotes and must approve an order sheet before the order is submitted to you. This radically cuts down on human error as the client is in control of their orders.
Countless cabinetry options
Clients can choose from an huge array of cabinetry options. Clients can specify the height, width, depth, margins, and more on their cabinetry components down to the nearest decimal place.
You are in control of what you offer. You decide if you are going to provide delivery and/or assembly. You can add your own unique services with the associated pricing.
Focus on running your business
Clients process orders and quotes independently online, freeing you up to focus on building your business.
Great training and support
Receive extensive one on one training upon installation with on-going support.