Online Flatpacks on Cabinetry.Online
"We tripled our business!"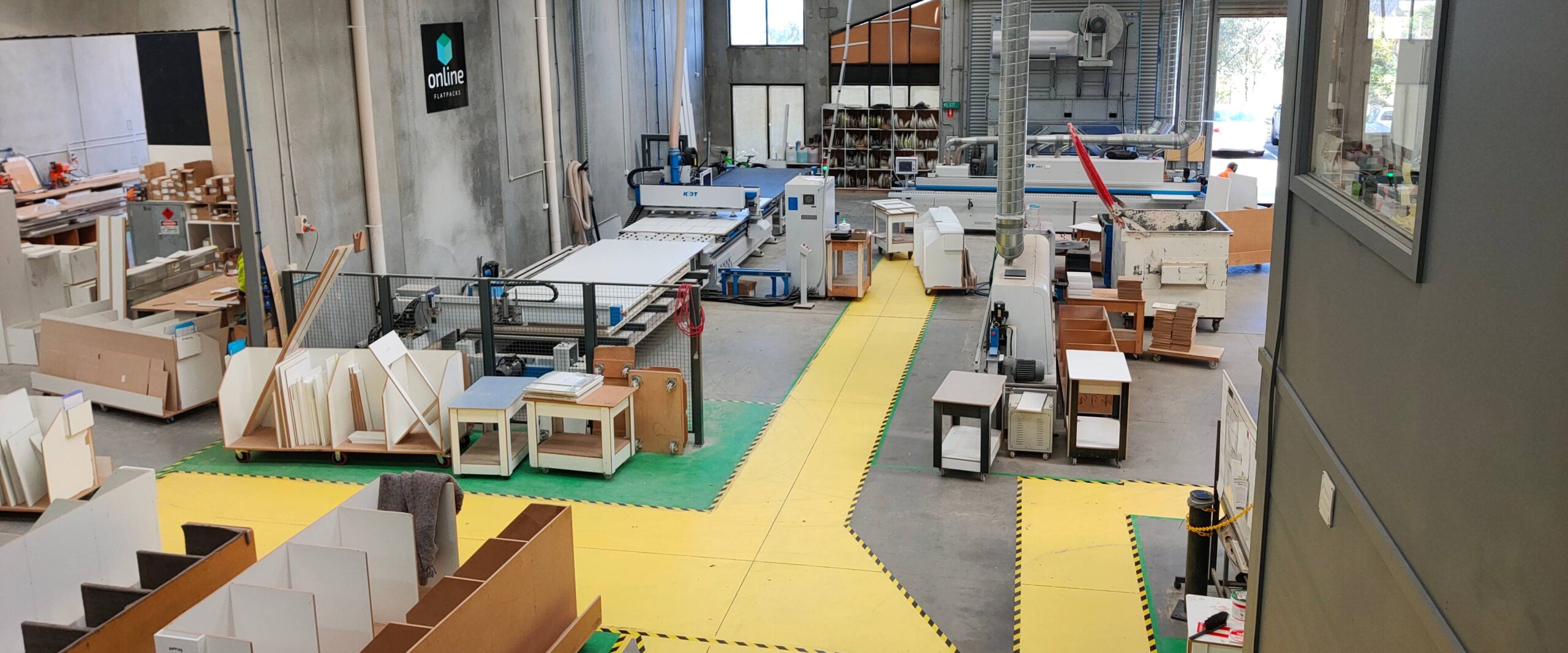 "We've tripled our business, and we only started four years ago!" exclaims Mick Hussin from Online Flatpacks when chatting about Cabinetry.Online. "It's been really good. It fills all our gaps."
Mick has been in the cabinetry business for 25 years now. He started Hartnett Cabinets in 1994. During one particularly busy February, their CNC machine broke down. They had to wait six weeks for the parts for the machine to be shipped from Germany. In desperation, Mick turned to Google for help. He found Cabinets By Computer who connected him with a local manufacturer who used the Cabinetry.Online system, and they did all their cutting for the six weeks it took for the parts to arrive.
Onboarding with Cabinetry.Online
"Then I thought, what a good idea!" explains Mick, "we should do that as well." The rest, as they say, is history. Online Flatpacks have tripled their revenue in four years since onboarding with Cabinetry.Online. "You can cater for anyone because there are so many choices of hardware and colours," says Mick on what he considers to be the most important feature of Cabinetry.Online, "you can cater for any cabinet maker."
Mick describes the onboarding process with Cabinetry.Online as "seamless". "If you want to set up a business, you just need to buy the machinery, and then ring Cabinetry.Online to get started. You would probably be working within a week." states Mick "It's really, really good service."
Online quoting and ordering
We're all aware of how an effective online quoting and ordering system can revolutionise a business. The ability to place orders and receive quotes electronically eliminates the need for manual processes and allows for faster communication between the manufacturer and the customer. This not only saves time, but it also increases efficiency.
"I find it so good because there's hardly any wages involved in producing a product through the software for a customer," says Mick on the reduced amount of admin involved in generating quotes and orders. "It's just so quick and easy online. If the customer doesn't have any variations, you just process the job straight through. It's done in 10 minutes or so."
A happy coincidence recently occurred after Online Flatpacks committed to sponsoring a local footy team. "Online Flatpacks has just become a major sponsor of the Frankston Dolphins VFL team, and there's a lot of signage around the grounds, some terrific exposure," explains Mick, "We were trying to figure out how to give discounts to people who came through, then Justin contacted us with the new coupon codes feature. So the timing was perfect for us, now we know we can measure where we're getting work from and how much work we're getting from the football signage."
The coupon code feature was released at the end of last year. This feature allows Cabinetry.Online manufacturers to create coupon codes of varying amounts. This feature can be used for promotions, limited-time offers, targeted marketing and building customer loyalty. It is an invaluable tool in determining your return on investment on marketing activities.
"I just find it so easy. It's so easy to work with the software, 99.9% of the time. We're just really happy with it". When asked about the ongoing support when they experience a problem with the software, Mick says, "Most of the time it's fixed within a day. Sometimes if it's a tricky one, it can take a little longer. But it's never a hold up enough for it to be a problem for our customers or getting a job out."
When asked what advice he'd give to someone considering getting started with Cabinetry.Online, Mick states "I would tell them to jump straight in, as quick as they can. It is the easiest way that I know to make money in the cabinet making business!"