Concerns and challenges in the joinery industry
As with all industries, concerns and challenges are always present, but proper planning is key to navigating the ever-changing landscape. The top challenges currently facing the joinery industry are price pressures, imported products, COVID-19 and a skills shortage.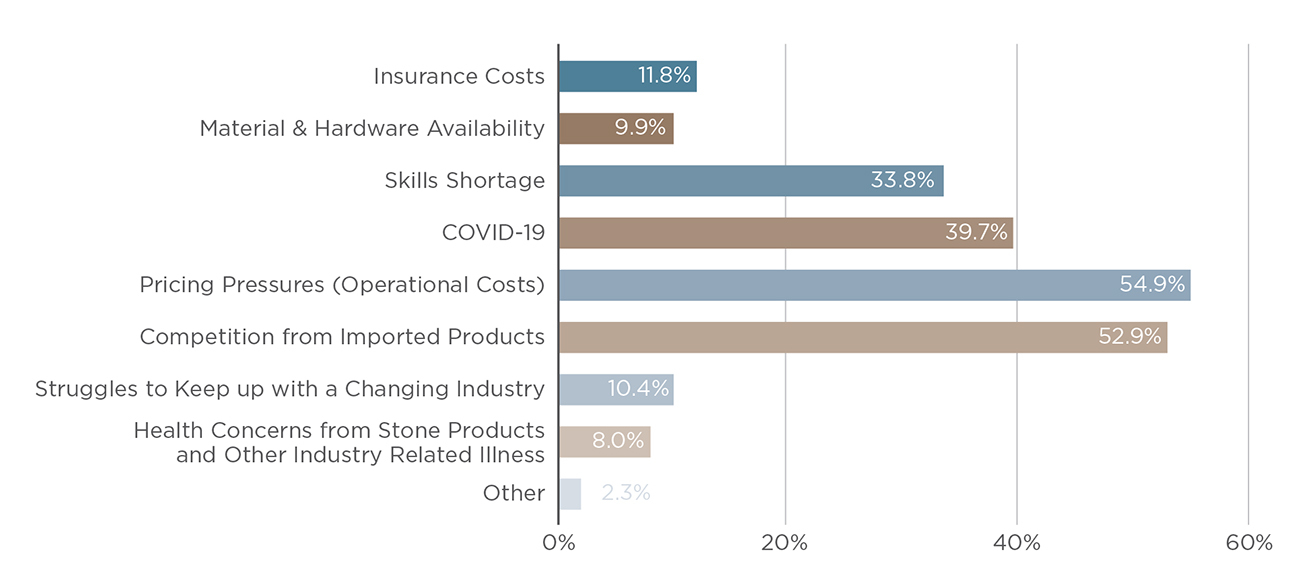 Pricing pressures (operating costs)
54.9% believed that a large concern moving forward for the industry is pricing pressures brought on by operating costs.
Cost increases and potentially rising employee wages are even more difficult to manage in a time of fluctuating customer demand. This sentiment is strong throughout the age demographic analysis, which also highlights the same correlation between employees and owners.
52.9% of respondents selected competition from imported products as a concern and challenge in the industry. Imported products, will force domestic markets to be innovators, between either increasing pace of innovation or being displaced by foreign innovators. The primary concern revolves around product pricing, as imported products are produced for far less than an Australian product, typically due to a significantly smaller labour cost component which is attributed to lower wages and conditions of overseas workers. By being able to offer a product at a comparatively lower price point, price sensitive end users or resellers might lean towards an imported product rather than one which is produced locally. This observation might not prove to be applicable to the Hardware segment, where quality far outweighed price for the main reason for choosing a hardware brand, but could be particularly relevant in the material space, where the primary consideration of material brand selection for respondents was driven by pricing.
It was no surprise that COVID-19 was one of the major concerns and challenges with 37.9% agreeing it was a concern moving forward. A slow economy, and a high unemployment rate, uncertainty where future work and income will come from, and the effect of new government regulations and initiatives all have bearing on the industry moving forward. It is likely that COVID-19 will continue to present as a challenge to the industry for quite some time until there is more certainty over vaccines, containing outbreaks and treatments.
33.8% of respondents reported skills shortage to be a concern and challenge now and in the future. The issues that are effecting skill shortages within the industry include an ageing workforce, differences in demand and/or supply of skilled workers as a result of employment arrangements, inadequate apprenticeship rates and difficulties in attracting and retaining employees. These are the factors that will impact the industry and the industry will need to act, if possible, in making training more attractive for younger people and assisting business owners to provide adequate areas of growth and training to employees within their business to help retain them as workers
* taken from the National Joinery Industry Report 2020