Introducing the Benchtop Specifier
What is the Benchtop Specifier?
The Benchtop Specifier is a groundbreaking online system which uses a preview-driven format to create benchtop quotes and orders for cut-to-size and benchtop manufacturers. Customers can create instantaneous quotes and orders, 24 hrs a day.
The Benchtop Specifier enhances and streamlines the quoting and ordering process. This system seamlessly integrates with Cabinetry.Online, but is also available as a standalone white-label module.
The Benchtop Specifier is a comprehensive and logical ordering system. It is broken down into an easy-to-follow sequence which culminates with a summary PDF.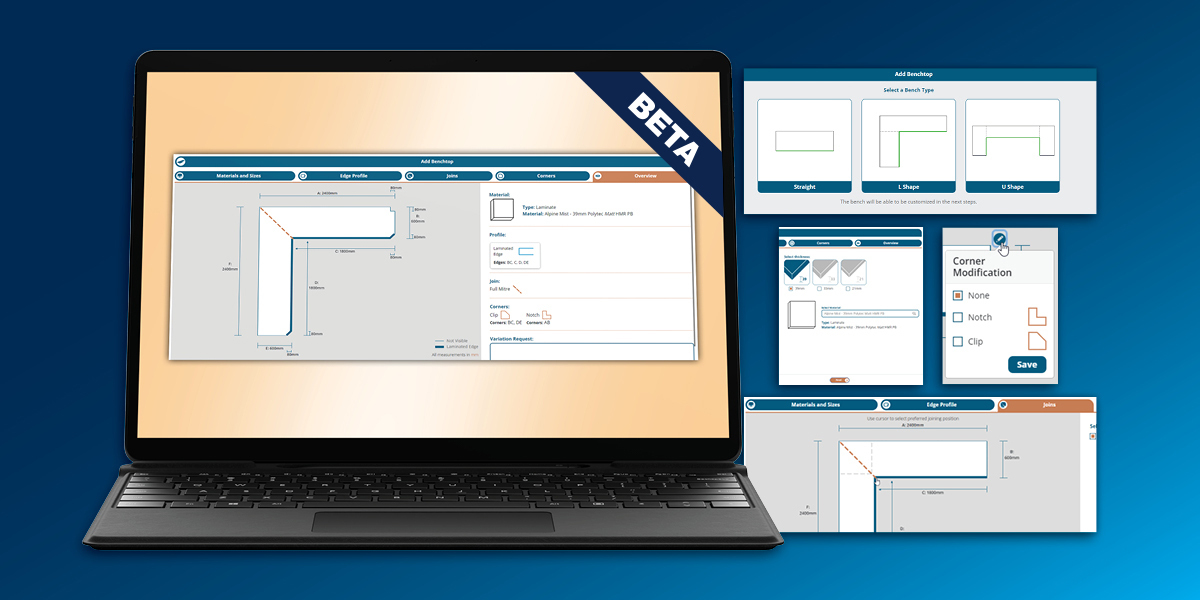 Why we are thrilled with the benchtop specifier
Bid farewell to PDF order sheets, clumsy drag-and-drop interfaces and making your customers wait days for a quote. The benchtop specifier is a game-changer: customers create quotes in real-time, slashing admin time and reducing human error.
The benchtop specifier enables you to streamline your benchtop ordering system, tap into new markets, increase your current offering, and, the system can be set up within a week!
Cabinetry.Online manufacturers
Existing Cabinetry.Online users will have access to this powerful tool which seamlessly integrates with the Cabinetry.Online ecosystem. This allows them to be able to expand their product offerings and increase order value.
Benchtops.Online: the stand-alone version for benchtop manufacturers
For those solely focused on benchtop manufacturing, this will supercharge your operation. This professional and streamlined system will provide you with a competitive edge in the benchtop market.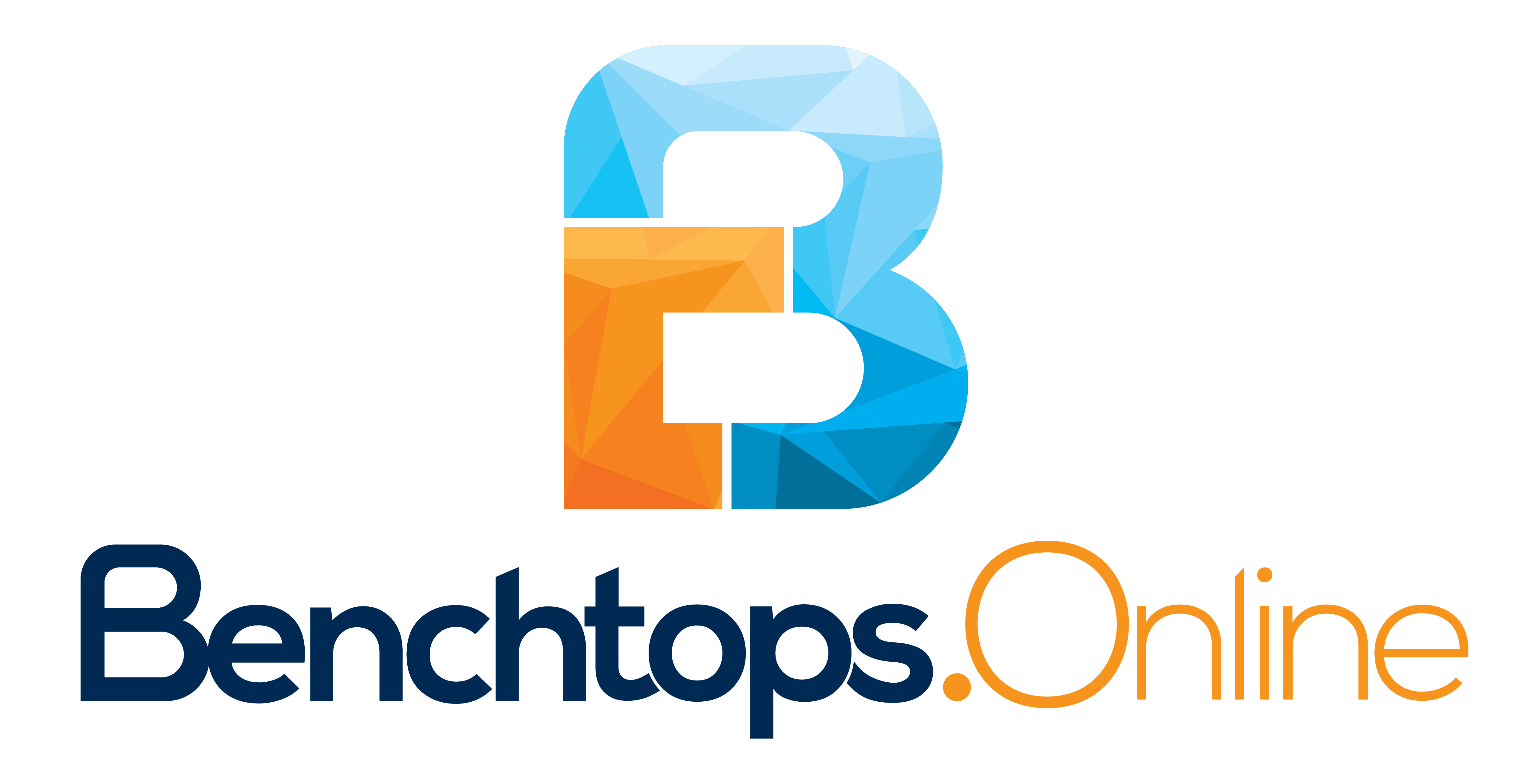 Features that set the Benchtop Specifier apart
Intuitive and preview-driven UI
The Benchtop Specifier utilises real-time visualisation with an intuitive user interface which allows the customer to see their envisioned benchtops. Previews include material selection and other tailoring like notches and corners.
Branding and customisation
If the standalone version is being used, manufacturers can personalise the portal by incorporating their logo and colours. When used in conjunction with Cabinetry.Online, the branding remains uniform and cohesive. The manufacturer portal allows complete control over materials available, edging, prices and more.
Precise notches and corners
Customers have the freedom to modify benchtops using the notch or clip corner modification function. They can manipulate corners and edges of the bench to add corner caps or to accommodate existing design restrictions like columns or bump-outs into window recesses.
The different benchtop joins dynamically adjust to the dimensions of the benchtop. If the benchtop's adjacent depths are different measurements, a dog leg mitre (also known as Z mitre) is automatically applied. Other join options, based on the parameters of the benchtop, will also be displayed. The customer can choose the join that best suits their application.
This logic has been created utilising in-depth industry knowledge and best practices.
Post-formed edging options
If you offer post-formed options, the module intuitively ensures that they cannot be applied on sides where a join is intersecting, or on adjacent edges (end rolls) unless they have also been corner clipped. This automated logic eliminates the guesswork for customers (particularly new users) and prevents user input errors that need to be picked up before manufacture.
PDF overview of benchtop quote
Once the quote is completed, a PDF overview is created. Customers can check the details and have a visualisation of the finished benchtop.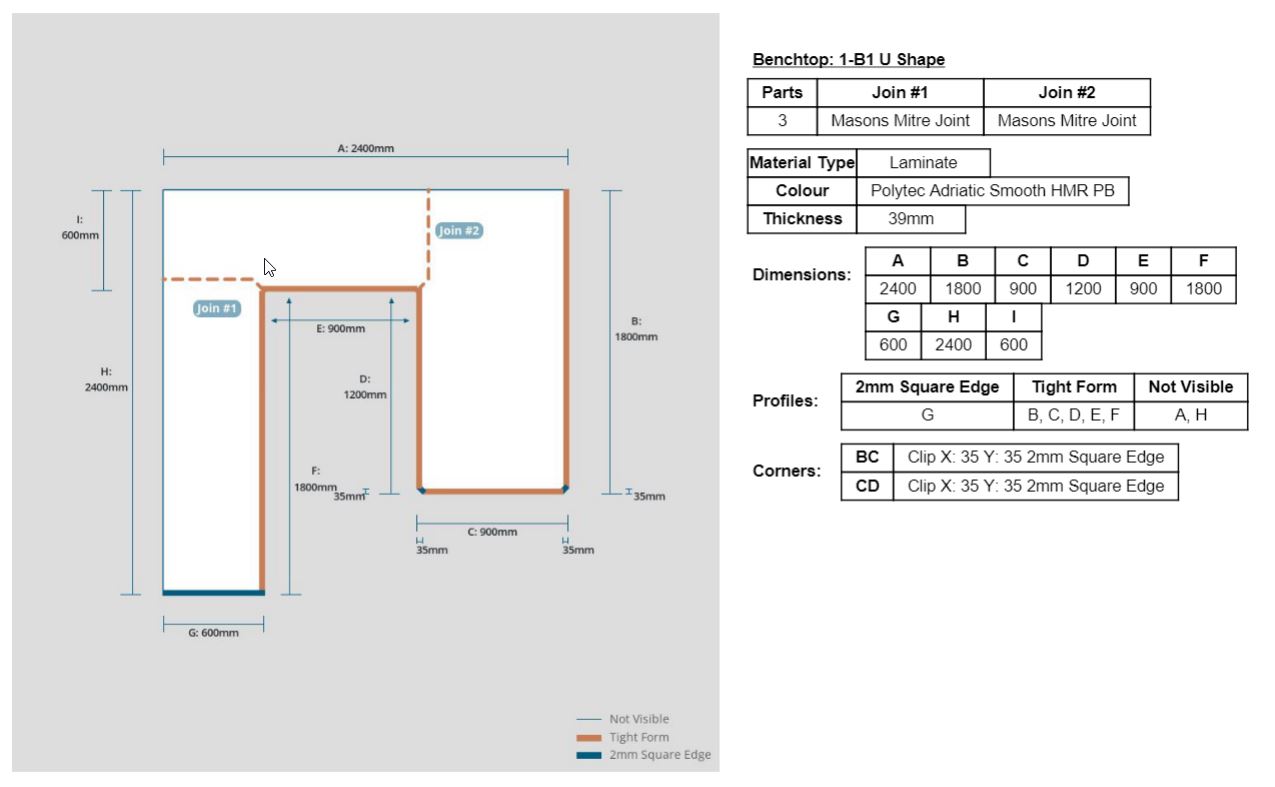 Manufacturer set up options
Manufacturers specify which materials are available, thicknesses and cost unit of measurement (to be calculated on either a m² or l/m basis). This ensures full control over the offering to customers as well as the pricing logic.
The manufacturer's portal is pre-populated with standard edge profiles. Manufacturers can choose which profiles they want to make available or start from scratch by creating their own options.
When creating their own profiles, manufacturers have extensive control over the pricing and restrictions (including being able to only show profiles of certain finishes/thicknesses/brands or material types). Manufacturers can also set custom images to display as an example on the customer portal.
Custom naming exists for all join options. So whether you call it a dog leg mitre, Z mitre or something else, be assured that your customers will understand what it is referring to. Unique pricing is assigned to each join type, to ensure manufacturers control the price for each utilised join on the customer's benchtop.
Ordering a benchtop through the Benchtop Specifier
Here we will run through the process that the customer would go through to order a benchtop via a manufacturer's Cabinetry.Online portal.
In this example, the benchtop is U-shaped and will be against two walls, all other sides will be visible.


1- The customer logs into the manufacturer's customised portal.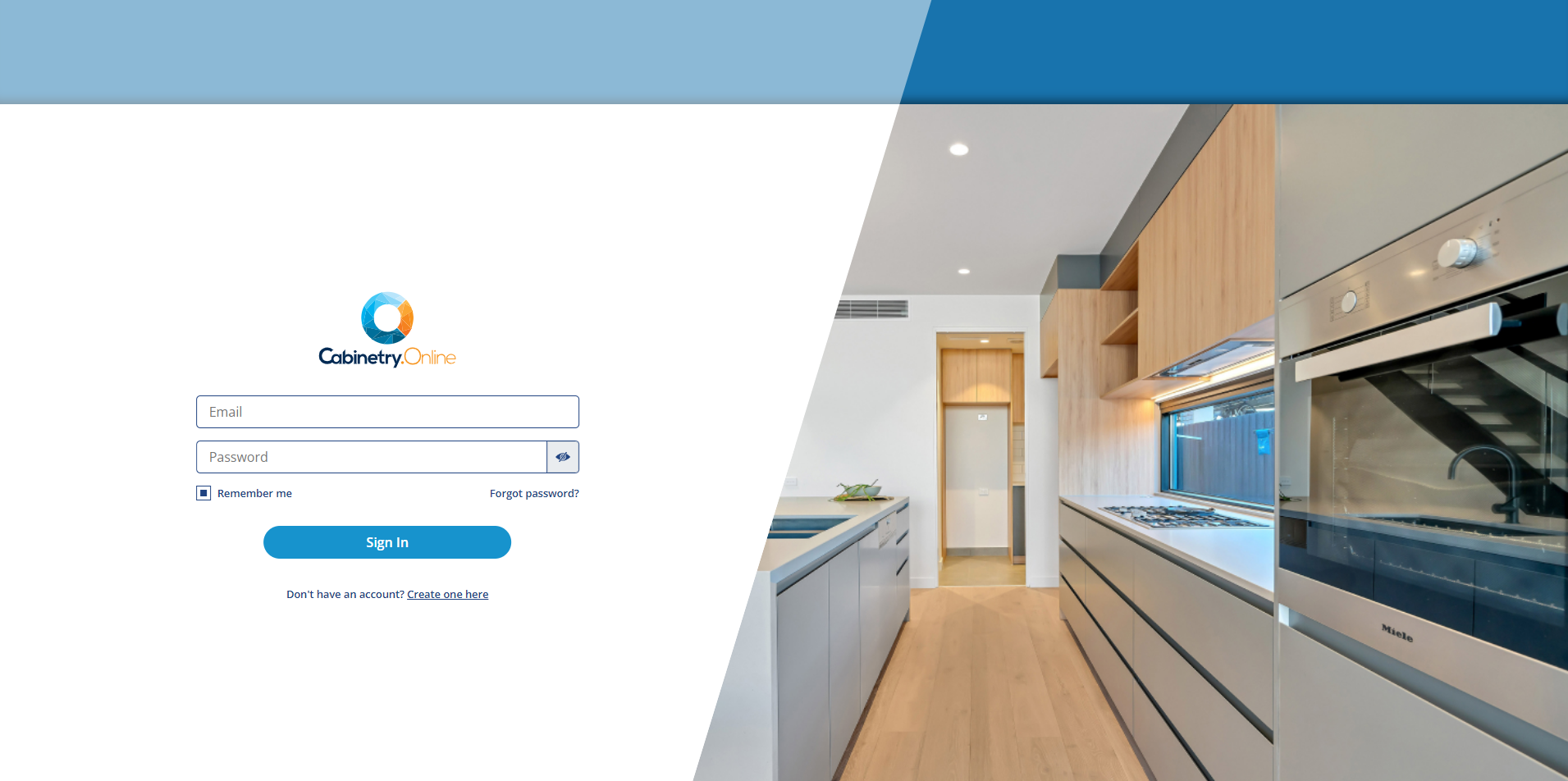 2 – Click on Create A New Job.

3 – Insert job details and click on Create Job.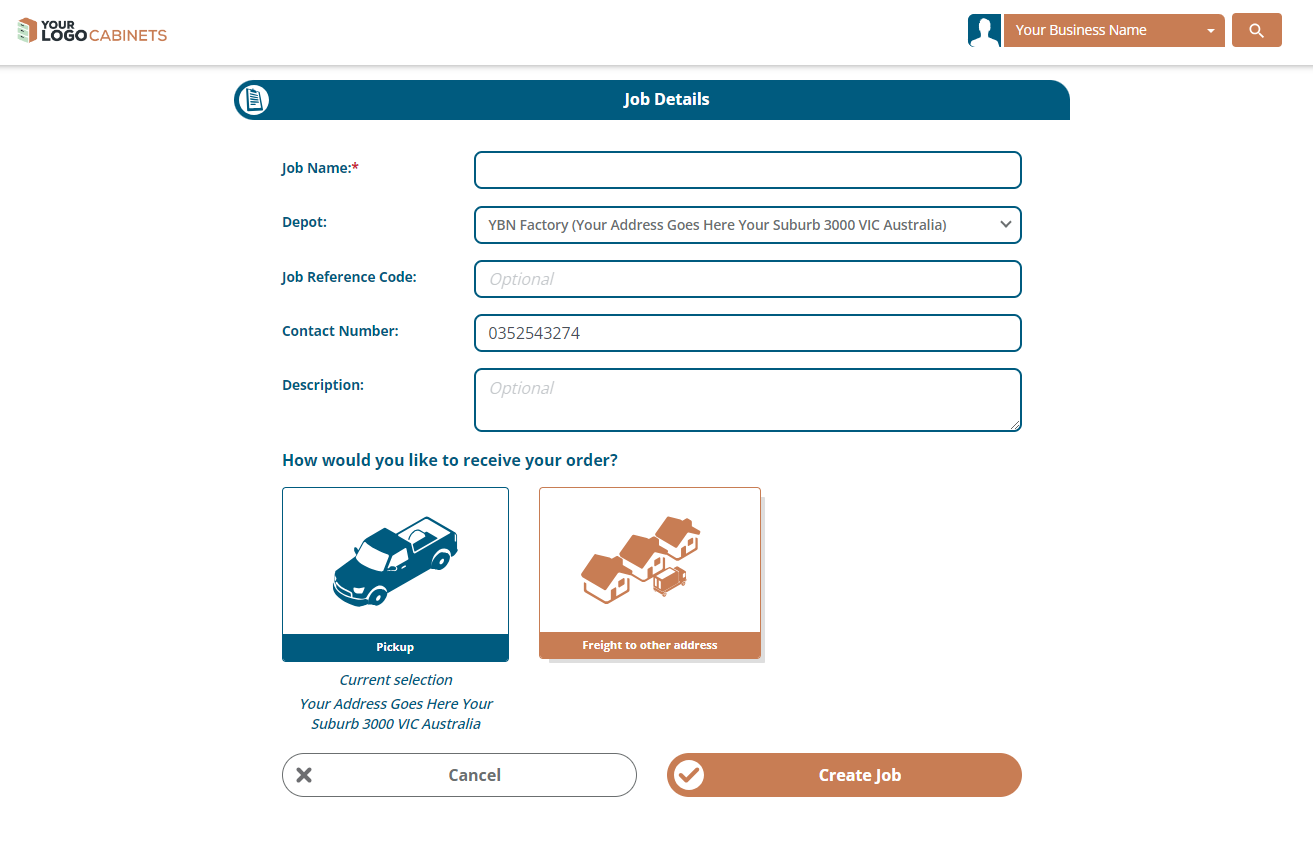 4 – Click on the add room icon. Add a room name and select the desired defaults. Click on Save Room.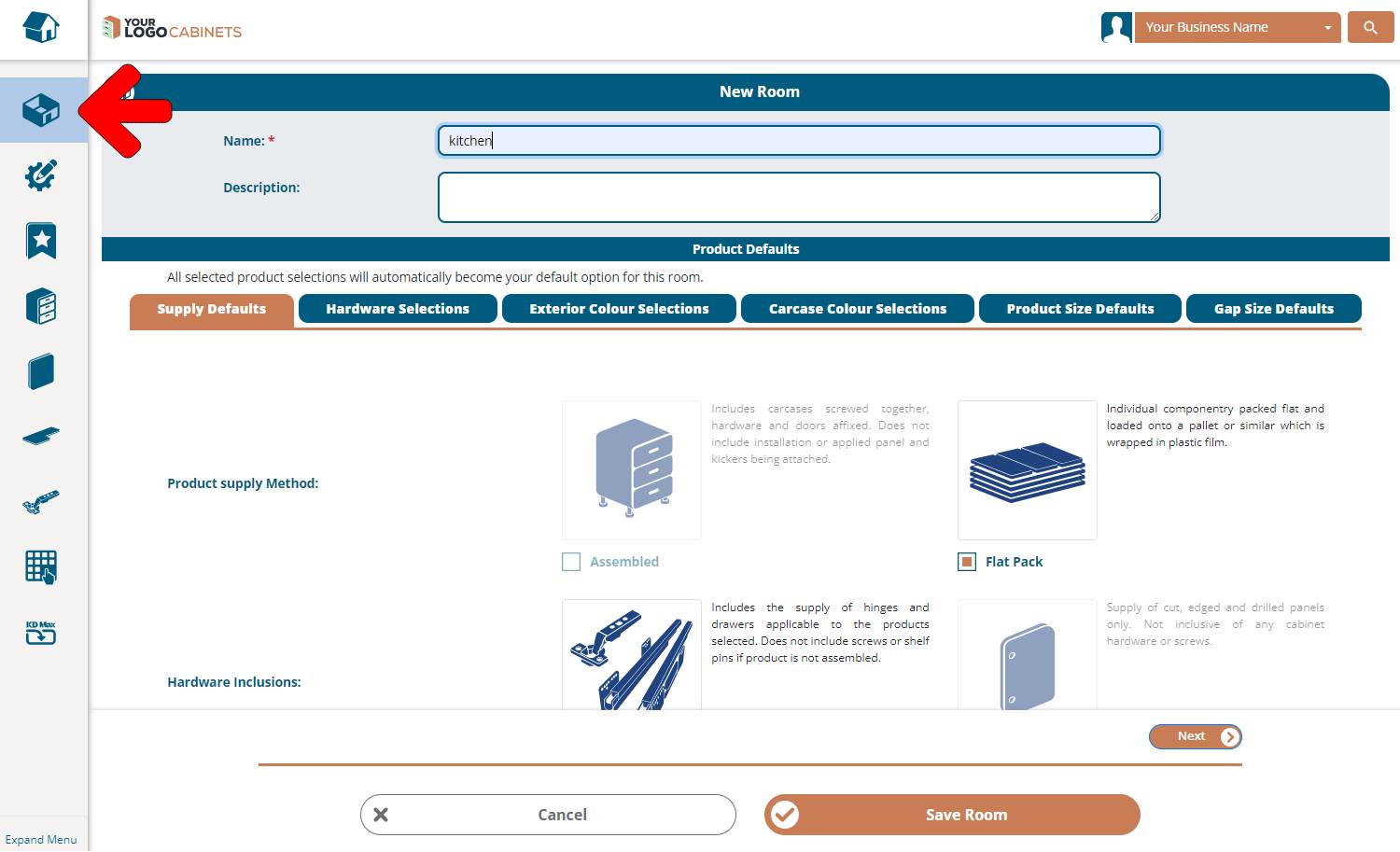 5 – Click on the benchtop icon. Select your desired shape. In this instance, we have selected U-Shape.

6 – Select your desired material. We have selected laminate.

7 – Select the desired thickness and material. Here we have changed side B to 1800 and side C to 900.
8 – Click on the Edge Profile tab, or simply click the Next button.
Select your desired edge profile on the right-hand side of the screen, this will be the default profile that will be applied to your top.
To see the different edge profiles available for each edge, click the edit icon on the edge. Here we have selected Tight Form for edge B.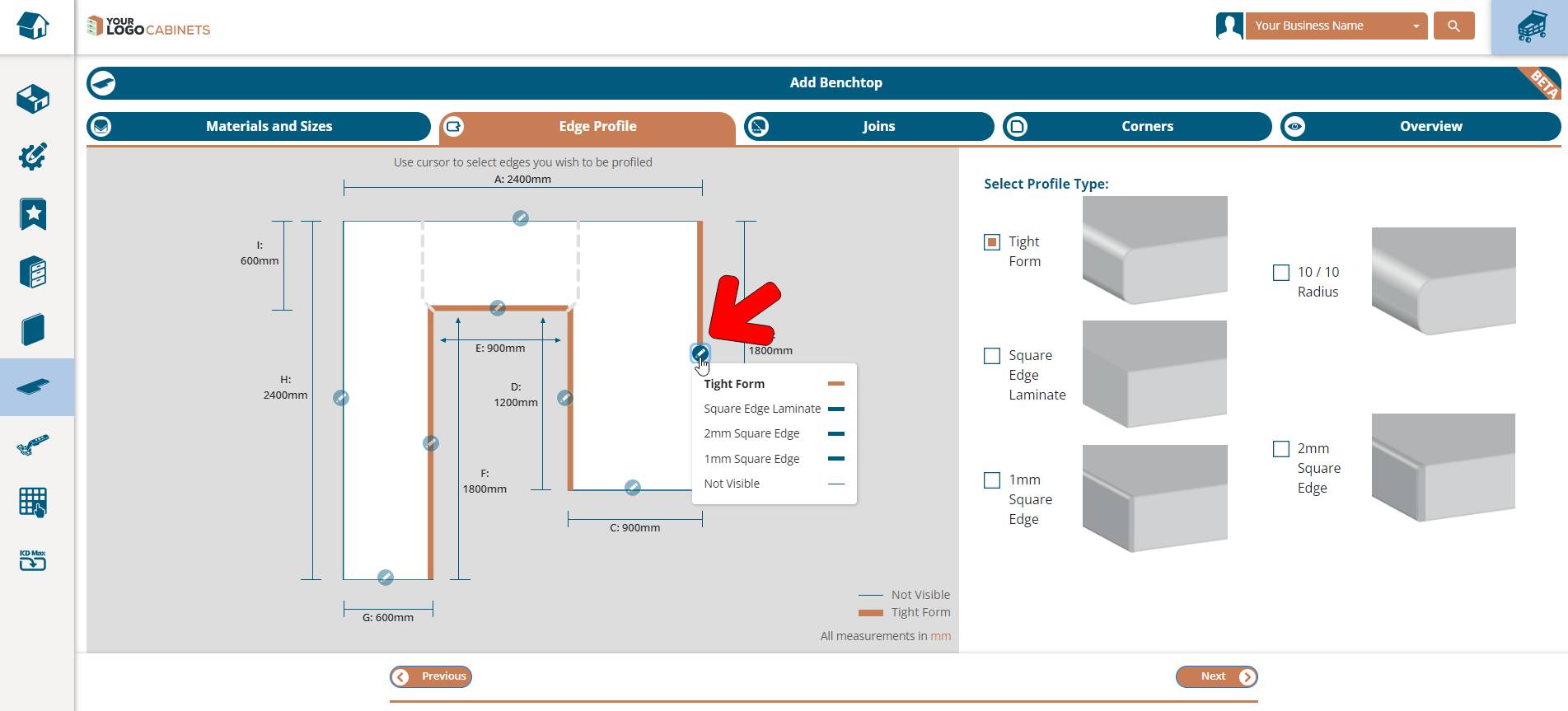 9 – This manufacturer has permitted the laminate tops to be ordered with an 'end roll'. Therefore, the ends of the benchtop (sides C and G) are able to have the Tight Form profile utilised.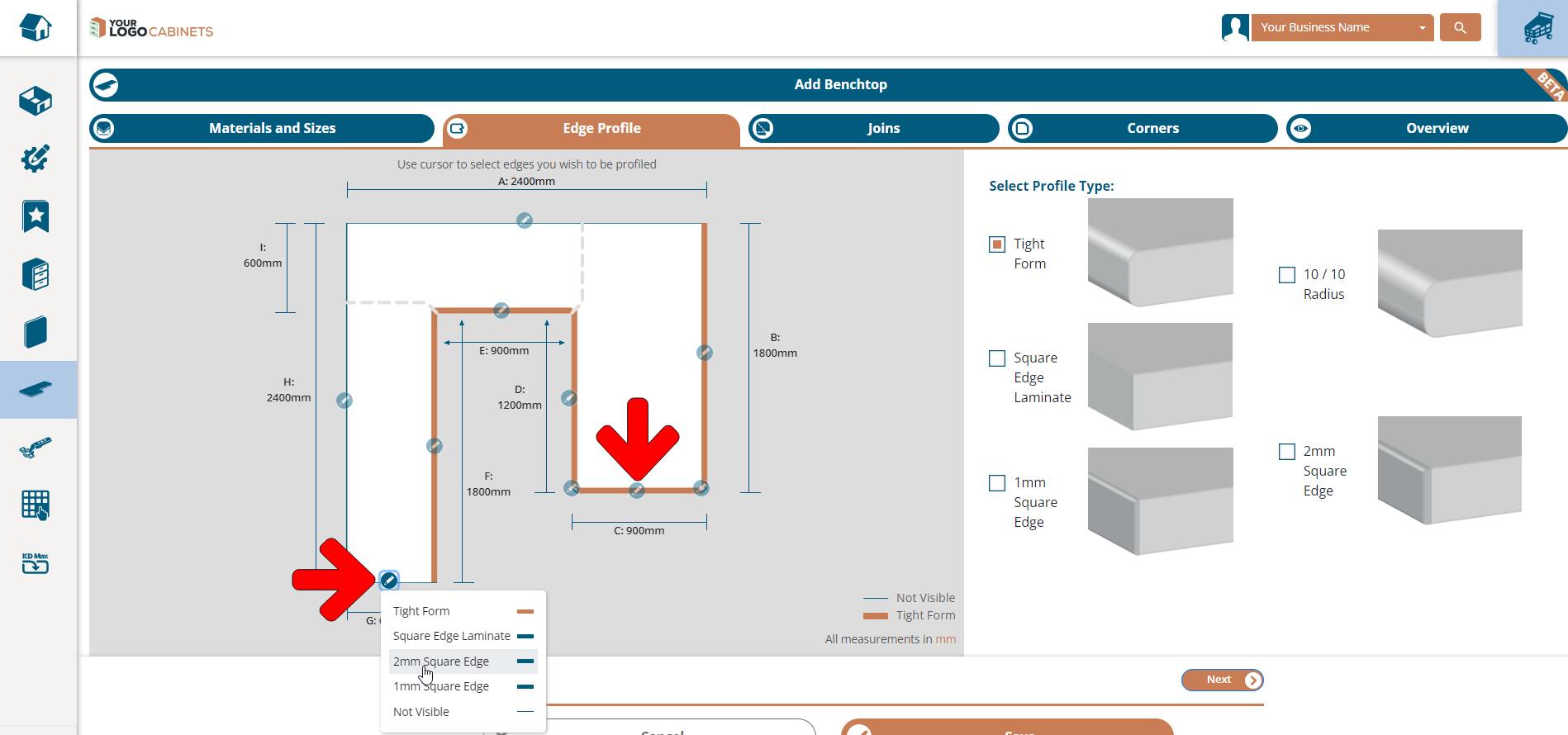 10 – Because we have applied an end roll, the corners of Edge C have been automatically clipped to accommodate corner caps.
Click the edit icon of one of the corners of line C to select the edge profile of the corner. Here we have selected Square Edge Laminate. Do the same for the other corner on the C line.
11 – Click Next or go to the Joins tab.
Here you can either click on the diagram of the benchtop to change the join type that you want or select the join on the right-hand side of the screen using the checkboxes.
Here we have selected the horizontal Masons Mitre as it is most suitable for our purposes.
You'll note that if certain joins aren't available, they will disappear from the diagram, as well as from the right-hand part of the screen (for Join 2, a Masons Mitre to the profiled side of the bench isn't permitted).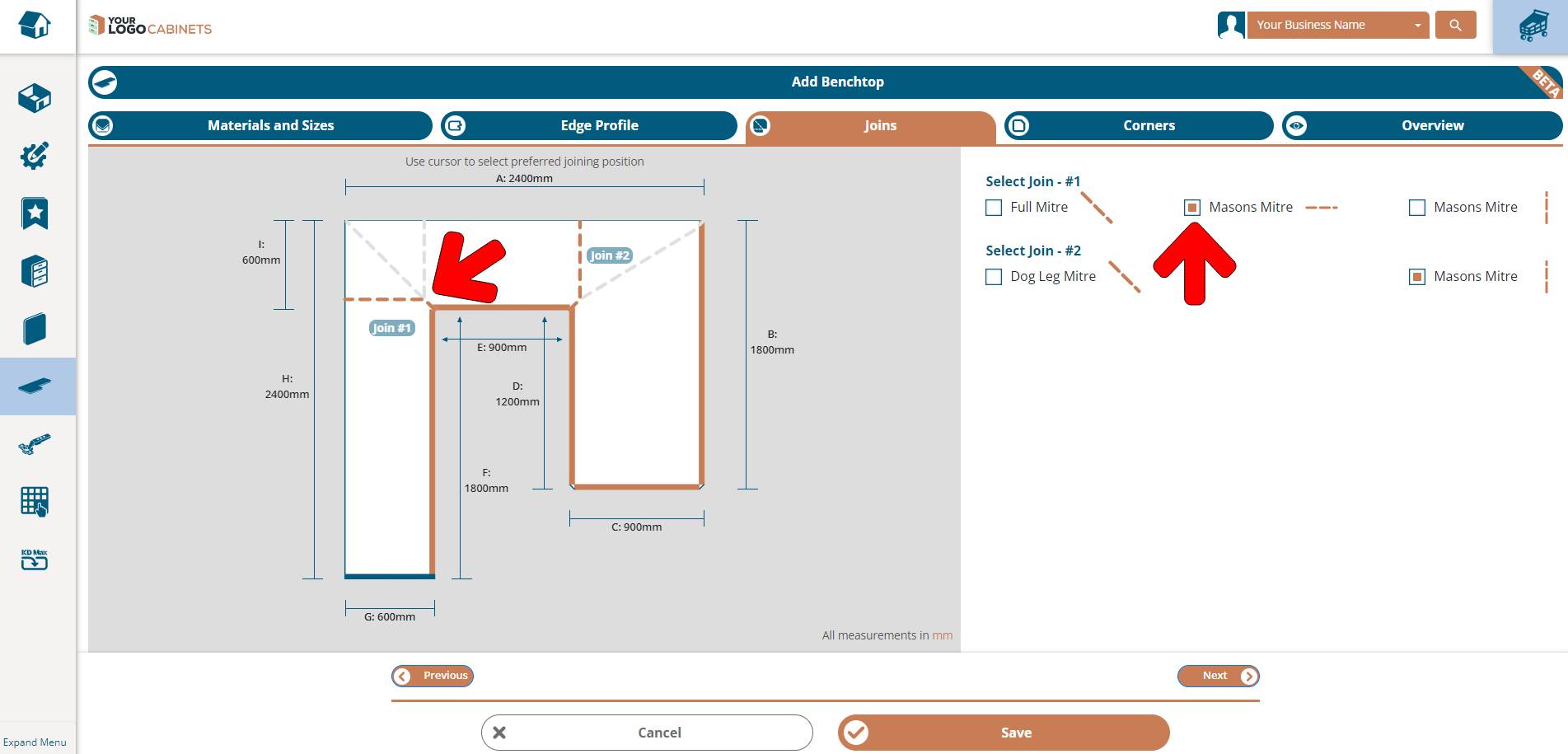 12 – Click Next or go to the Overview tab.
Here you can check the summary of your order and add any variation requests (this is where you can add variations like a cut-out in the top or an edge to be a waterfall).
Hit Save when you're good to go!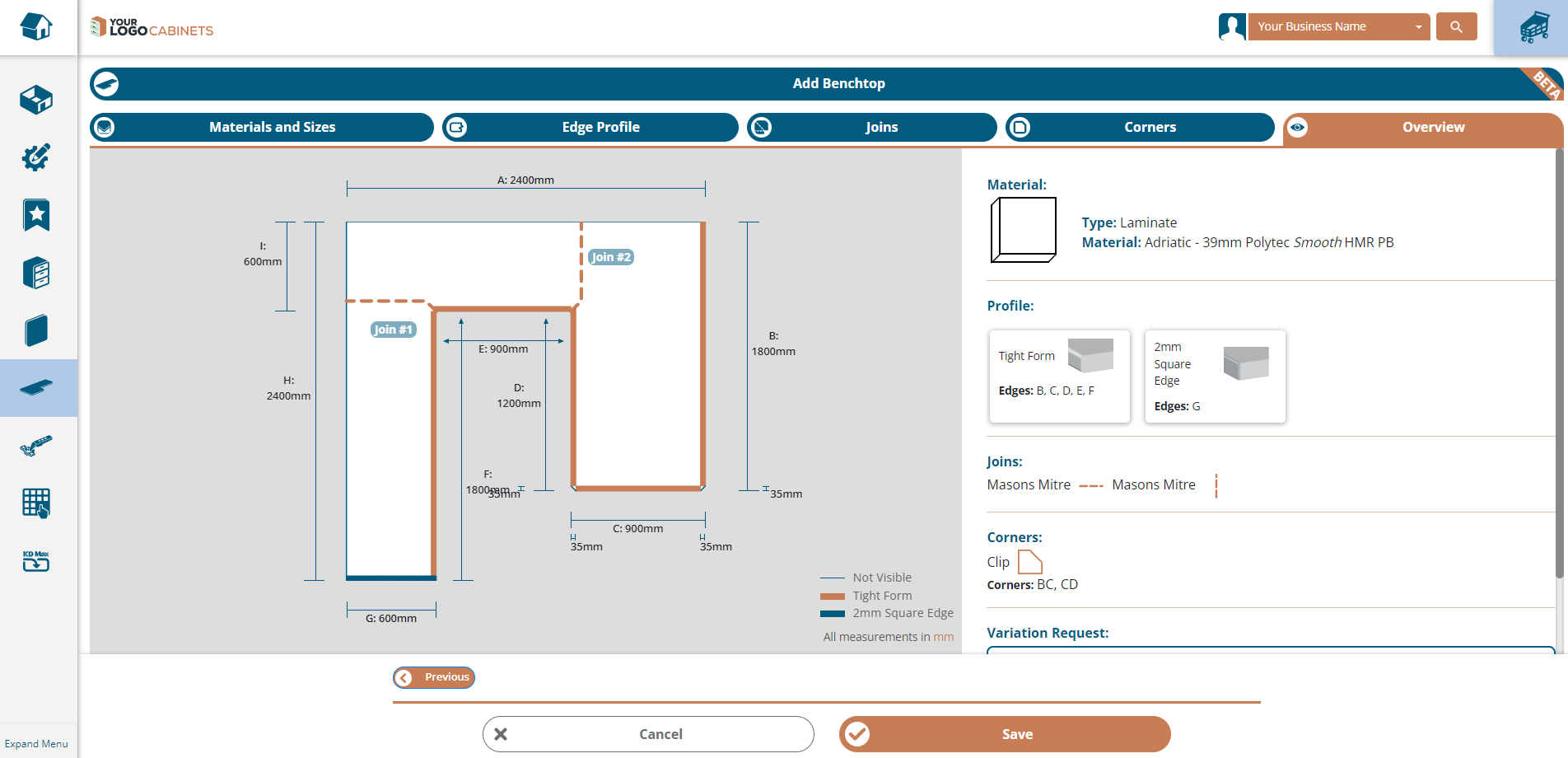 13 – Click on the shopping cart icon in the top right-hand corner. Click on PDF. Click Job Details PDF. You will now get a PDF summary of your order.

All that's left to do is press Submit Job.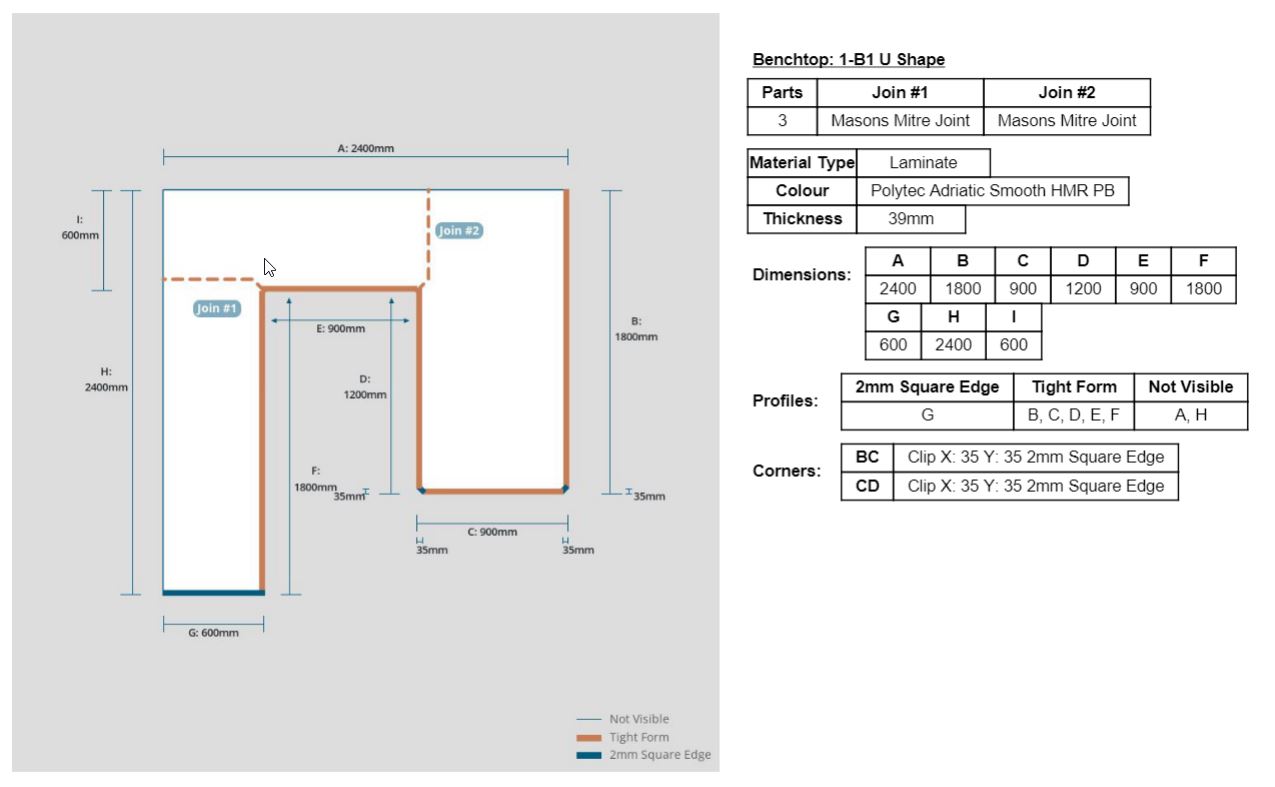 If you would like to learn more about Benchtop.Online or would like to activate the Benchtop Module on your Cabinetry.Online portal, contact us today on +61 1300 783 997 or click here.